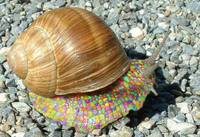 This is another picture from that email I mentioned in an earlier post.

Is anyone else having issues staying logged in to Blogger? I keep getting this message that the session has ended and asking me to log back in! It's making me nuts! So I thought maybe it was the password and changed it and that didn't help either :(

I got the Crazy for Cross Stitch magazine in the mail yesterday finally!! It's only a month late! Well I'm glad I got this one since one of the designers in this months issue is a member of my
Butterflies and Bunnies Xstitch group
Her name is Nathalie, shes from the UK and her design is of Sampler style Autumn theme on a bellpull.. these are not my usual types of things to stitch, but this one is really nice. She's a great designer, she even designed a freebie teddy bear pattern for our SAL in the group! YAY :)

I didn't get much stitching done on my Summer exchange still.... I'm just having a block with this one for some reason. So last night to inspire myself I started a cute little pattern also from the magazine, it's of a little kitty ghost for Halloween. I will stitch a little more on it tonight and then tomorrow I will go back to the Summer one since I need to get that in the mail really soon (no more excuses!)
I will show an update picture of the kitty tomorrow.